POTTER COUNTY MONITOR - Potter Co., PA - N2COD
RADIO FREQUENCY RESOURCES around Potter County, PA
Information is crucial to survival in this age of technology. It's important to know what's going on around you. A properly programmed scanner can be an invaluable resource for tapping into real-time events evolving nearby that may affect YOU! Police/Fire activity, government agency actions, weather events and a multitude of other activities can be monitored at your station to increase your own security.
This website lists many types of Radio Frequencies that might be monitored here in Potter Co., PA. Lists include Amateur (Ham) Radio simplex & Repeaters on which you can hear local & regional communications, Police and Fire Department activities, Government Operations (Local, County, State & Federal levels), CB/MERS/FRS/GMRS citizen communications, Local AM/FM Broadcasters and much more.
The column on the left of this page will link you to various Radio Frequency Lists that you can use to plan your "local" Potter Co. scanner program or monitoring lists.
Frequency Data Base List Accuracy & Updates
Frequency information shown on this website is, to the best of my knowledge, accurate and up to date as of January 2016. RF Data was researched on the internet and also included from actual operating conditions experienced at my QTH and also while Mobile in the Potter Co. and surrounding areas. Not all frequencies have been "verified", but are considered accurate from FCC data bases & other sources. Your best bet is to listen to a particular frequency of interest to you to verify if it is indeed currently active. The FCC is currently mandating a narrowband channel spacing on most Public Service frequencies, so as stations transition to the new channel spacing, the data base will be in continual revision.
Bookmark this site & visit often for updates as they occur.
Please email me with any corrections, deletions or updates.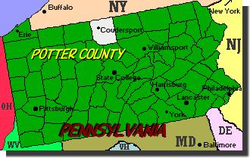 Amateur Radio Operator N2COD - Mike Perry, Austin, PA Grid Square: FN01wp
I'm Mike, N2COD, I'm an Extra Class ham operator and I've been a ham since 1971. I also enjoy Scanner Radio Monitoring, Short Wave Listening, DXing AM/FM Broadcast stations and general radio monitoring.
I'm a member of the Potter County Amateur Radio Emergency Services ARES Group and a volunteer with the Potter County ACS.
I'm also a member of the NTRS, Northern Tier Repeater System, in Potter & Tioga Co., PA
Nice folks and a good local club. Check them out at: http://ntrs.gainesgarage.com
Contact me at the eMail link below for more information.
Contact me with comments, suggestions, questions, additions or corrections to the RF Data Bases.
Check out this link below to a great DHS site that pinpoints Land Mobile & Cellular License Data & MAPS it in your area . See what that tower really is used for!